Sydney CBD Offices for Rent in 48 Buildings
---
Flexible & Serviced Offices in the Sydney CBD
Choose serviced, shared or coworking office space in Sydney CBD from office buildings and business centres to flexible coworking spaces for rent. Use our simple search, or get in touch and we'll do all the work for you.
What You Need to Know about Renting Office Space in Sydney's CBD
Sydney's CBD comprises an area of more than 5 million square metres of office space, which make it the largest CBD market in Australia.
Sydney CBD Office Market: The Central Business District of Sydney New South Wales is split into five main areas:
The Financial or City Core (where most tenants are legal and finance firms)
Western Corridor (mainly attracting finance and consulting companies to smaller office units)
Walsh Bay (a redeveloped industrial space fitted to high specs)
Midtown (a central location offering lower rents than the City Core)
Southern (typically the most affordable within the CBD, and attracts government tenants)
Typical Office Occupier: Market activity in the CBD is dominated by small transactions, although a few exceptions involve large leases for government and IT firms in search of refurbished premises. The main tenant profile has been unchanged for several years, involving companies in property, finance, insurance, and education. Typical lease terms go from 5 to 10 years, although there has been a recent shift towards shorter lease terms and increasing demand from tenants considering coworking or flexible office arrangements such as move-in ready serviced offices and short term day office rental.
Office Space Sydney CBD - Vacancy Rates: Vacancy rates for all grades are under 6 per cent, although they are half of that figure for A Grade serviced and private offices and even lower in Western Corridor and Southern areas.
Average Rental Costs: The Sydney CBD office market in New South Wales, Australia, is known for having some of the world's fastest-growing office rents, as they are increasing faster than those in other established global office markets like San Francisco, Chicago, or Toronto. Average gross effective rents for Premium CBD offices are over $1,000 / sqm, down to approximately $850 / sqm for A Grade and $730 for B Grade. Once incentives are taken into account, net effective values go from lows of $940 / sqm to highs of $1260 for premium offices, $920 to $990 for A Grade, and $750 for B Grade space (2017 data).
Sydney CBD Office Market Trends & Outlook: A temporary slowdown appears to be in the cards for the Sydney office markets, since only a third of all investments are in the CBD and the only major additions will not be delivered until 2021, when a new construction cycle is expected to start with projects in Bridge Street and George Street. From that point on, office developments are set to accelerate along major infrastructure improvements, such as the expansion of the metro system.
What You Need to Know about Opening an Office in Sydney's CBD
Key Industries: Sydney's economy is internationally renowned for its strengths in banking and finance, and it its estimated that approximately half of all the city's finance professionals work in the Central Business District. Major technology firms like Expedia, Amazon, and LinkedIn have, also chosen Sydney CBD in New South Wales, and many more are expected to follow in what may become "Silicon Place".
Other important sectors are advanced manufacturing (with specialisms in aviation and aerospace), pharma, biotechnology, tourism and hospitality, as Sydney is one of the most visited cities in the Asia – Pacific region and 11 per cent of local workers employed in this sector.
Key Employers & the CBD Labour Market: Important employers include the Australian Stock Exchange, Deloitte, ANZ, HSBC, Commonwealth Bank of Australia, the City of Sydney, KPGM, Murdoch Media, Ernst & Young, and Sydney University of Technology. With more than 220,000 workers, Sydney's CBD is the city's largest employment hub, and workforce numbers are expected to keep growing by approximately 1 per cent every year.
Business Benefits & Incentives: As Australia's top global city, Sydney boasts a dynamic and competitive business environment that stands out in areas like human capital, innovation, infrastructure, and business prowess. More than 8,000 businesses based in Sydney's CBD and 80 per cent of those are small firms with up to 20 employees. The City of Sydney maintains an informative website that lists business support options, ranging from grants to sponsorships, mentoring programs, and other practical resources.
Find Serviced Offices Sydney CBD
Choose serviced, shared or coworking office space in Sydney's Central Business District. Find office buildings, business centres and coworking spaces with spectacular views in this beautiful, bustling and thriving area. If you need help with your Sydney CBD serviced office space search, you can get in touch with us by using the form above.
Whether you are looking for a new day office conveniently located near major transport links such as Sydney International Airport, or you are looking for a furnished office in a modern building, with spectacular views of famous landmarks such as the Sydney Opera House and Sydney Harbour, we can help you. With a vast array of furnished offices with essential amenities such as high speed Internet, kitchen facilities, 24hour access, car parking and more, we are sure you will find your perfect office space in Sydney's Central Business District.
Office Space for Rent in Sydney CBD, New South Wales
There are 48 office towers, landmark buildings and commercial properties in Sydney CBD with spaces available for rent or lease including:
| | |
| --- | --- |
| 476-478 George Street | Private / Serviced Offices, Coworking / Shared Office, Virtual Office |
| 580 George Street @ Town Hall | Private / Serviced Offices, Office for Lease, Coworking / Shared Office |
| Darling Park, 201 Sussex St | Private / Serviced Offices, Coworking / Shared Office, Virtual Office |
| Liberty Place, 161 Castlereagh Street | Private / Serviced Offices, Coworking / Shared Office |
| 44 Market Street | Private / Serviced Offices |
| 320 Pitt Street | Private / Serviced Offices, Coworking / Shared Office |
| Piccadilly Tower, 133 Castlereagh Street | Private / Serviced Offices, Virtual Office |
| Vantage Offices @ 233 Castlereagh Street, Level 21 | Private / Serviced Offices, Coworking / Shared Office |
| 61 Market Street | Coworking / Shared Office |
Featured Sydney CBD Business Locations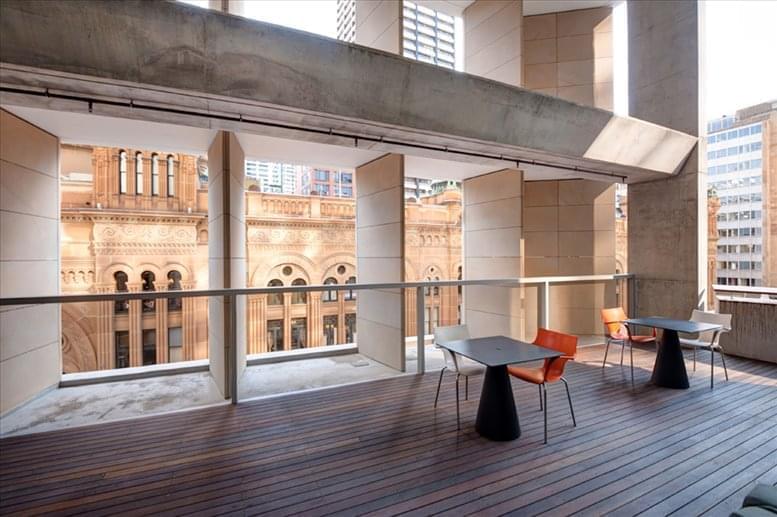 476-478 George Street
Sydney CBD Office Space
Refined complex with a unique design, this center occupies 4 floors of this 14-level development in the heart of the central business district. This space offers a clean, unadorned interior. Natural... Read More >>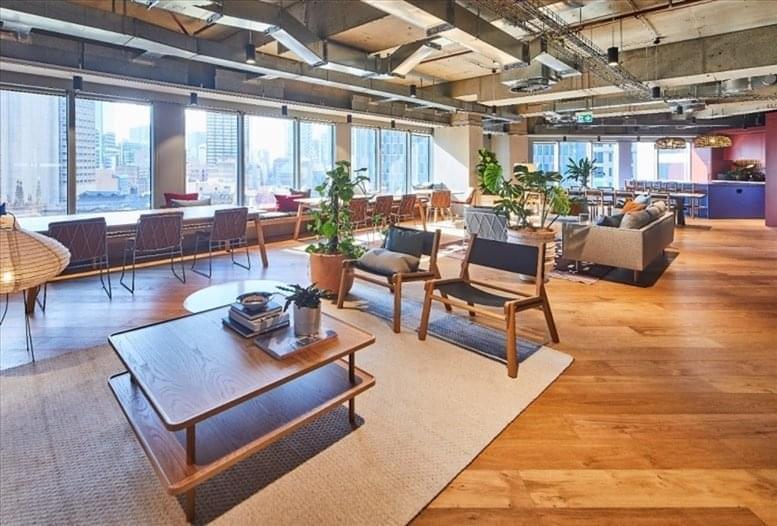 580 George Street @ Town Hall
Sydney CBD Office Space
580 George Street is a 33-level Art Deco style building with a fantastic location overlooking Sydney's historic Town Hall. Fully furnished serviced offices and coworking spaces are on offer at this... Read More >>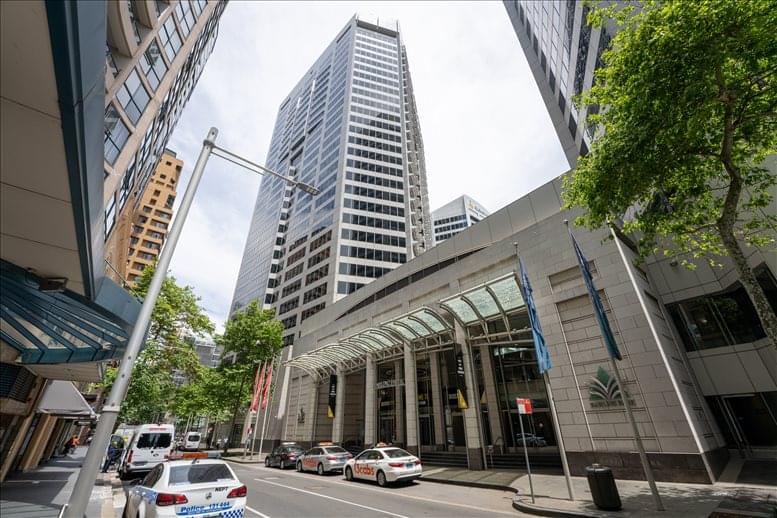 Darling Park
Sydney CBD Office Space
This new 35-storey building boasts own courtyard and offers views onto Darling Harbour and the city skyline. This landmark building features a helipad, secure underground parking and 24-hour access... Read More >>