North Sydney Offices for Rent in 1 Building
1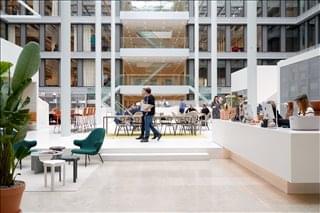 Count leading tech firms among your neighbours in bright, open offices that tower above the surrounding area. Moreover, this business centre allows host catchups and brainstorming sessions in on-demand meeting rooms. Along with this, this centre brings up plethora of amenities including on-site management services, high speed Wi-Fi availability, access to... More photos/details >>
Private / Serviced Offices
Coworking / Shared Office
Virtual Office

Count leading tech firms among your neighbours in bright, open offices that tower above the surrounding area. Moreover, this business centre allows host catchups and brainstorming sessions in on-demand meeting rooms. Along with this, this centre brings up plethora of amenities including on-site management services, high speed Wi-Fi availability, access to... Read More >>
---
---
Private Offices & Shared Office Space in North Sydney
OfficeSpace.com.au has commercial office properties offering serviced offices in North Sydney NSW, and shared office space for immediate occupation on short term contracts. Give us a call or fill out the form to arrange to visit one of these furnished offices or executive suites.
Many of the office buildings and business centres we list offer all inclusive, short term rental agreements for fully furnished and serviced office spaces with office solutions such as air conditioning, high speed internet, breathtaking Sydney Harbour views, call answering, manned reception, kitchen facilities, business lounge areas, easy access to public transport or car parking and more. This provides your company with a furnished office suite complemented by a wide range of amenities and a prestigious address in North Sydney, without tying you into a multi year lease and all the additional cost and hassle that might require.
Why Businesses Rent Office Space in North Sydney NSW
North Sydney AU experienced a business boom in the mid to late 1990s, and more than 20 per cent of all the existing businesses in the area were first set up at that time. All in all, there are more than 15,000 registered businesses in North Sydney, which provide over 90,000 jobs.
North Sydney NSW is among the most competitive areas for business owners. Factors commonly cited as reasons to choose North Sydney as a business location include:
the availability of public transport;
proximity to Sydney's CBD;
desirable location for staff;
and the affordable cost of office space.
Key Industries: Professional, scientific, and technical services are the largest sectors by far, accounting for a quarter of all economic activity in the area. Also important are finance, insurance, real estate, healthcare, construction, and administrative support.
Major Employers: The largest employers in North Sydney are also major office tenants and include Zurich Financial, New South Wales Health, MLC Limited, Vodaphone, National Australia Bank, Cisco Systems, Carnival Australia, Virgin Mobile, Flight Centre, Symantec, United Group, and First Data Resources. Moreover, some of the global Top 100 corporations are based in Macquarie Park, including Microsoft, Johnson & Johnson, Oracle, Novartis, Sanofi, 3M, and AstraZeneca.
Economic Growth: North Sydney NSW is part of the 2036 Economic Development Plan, which will bring employment gains to the entire metro area. In particular, North Sydney is most likely to benefit from job gains in finance, insurance, and other office-using occupations. It is expected that by 2036, 300,000 additional jobs will be created in the area, doubling current workforce numbers.
This is considered a skilled market, since 60 per cent of local workers have a bachelor or higher degree, with the most common areas of specialisation being management and commerce, society and culture, engineering, creative, and health.
Office Space Market in North Sydney NSW
North Sydney offices tend to pick up demand spilling from Sydney's CBD, due to their lower overall costs and easy access to central Sydney. The latter is likely to improve even further once the Metro expansion is completed in 2024.
North Sydney Office Market: The North Sydney office market consists of a mix of large and established sub-markets (such as Macquarie Park and North Shore, with more than 800,000 square metres each) and hybrid markets, which include Chatswood, St Leonards, and Crows Nest. This market covers a total area of more than 2 million square metres (half of Sydney's CBD), and inventory is evenly distributed into A and B Grade space.
Average Rental Values & Vacancy Rates: Overall vacancy rates are 8 per cent, although they are well below average in Macquarie Park. Average net rents for prime office space range from $360 / sqm in Macquarie Park to $700 / sqm in central North Sydney NSW, whereas secondary office space ranges between $320 and $600. Incentives average 25 to 30 per cent (mid 2017 data).
New Office Space Developments: New office developments are planned to be delivered up to 2020, mainly in the Mount and Denyson Street areas, and substantial development is also planned in St Leonards and Crows Nest, near the hospital and Pacific Highway North Sydney.
Outlook & Trends: On an area-by-area basis:
We observe evidence of revitalization in North Shore, after a period of limited activity.
In St Leonards, dwindling supply is the main theme, given that there are many office-to-residential conversions taking place.
Future expansion looks feasible in areas like Gore Hill Technology Park.
Macquarie Park is preferred by tenants with large office space requirements, many in the technology and pharma sectors.
How We Can Help You Find Serviced Office Space in North Sydney AU
OfficeSpace.com.au provides entrepreneurs, freelancers, project teams and companies of any size with exceptional serviced office solutions, coworking spaces, sublet office spaces and virtual solutions in North Sydney, NSW on flexible rental contracts to suit your needs.
Most of the office buildings provide meeting rooms, a reception, state-of-the-art print and scanning amenities, internet and network wiring, telecommunications set up, call answering, and furniture. A number of the business centers, furnished offices and executive suites also provide on site IT support, meeting rooms, call answering, easy access to public transport and other professional services and amenities.
Choose any of the North Sydney serviced, sublet, shared or virtual space available for rent on this page by clicking on the listings above or simply adding them to your shortlist. These office solutions are located at prestigious North Sydney business addresses and are offered on flexible terms, giving you the chance to rent office space in North Sydney NSW for whatever period you need with the option to scale up or down as your workspace requirements change.
Whether you require kitchen facilities, car parking, a business lounge, air conditioning, a day office, executive suites, meeting rooms, a manned reception, or an office suite with stunning Sydney Harbour views and high speed internet - OfficeSpace.com.au have got you covered with our Office Finder. Use our search to find your prime business centre with furnished offices right now, and arrange to visit your perfect serviced day office in North Sydney today.
Contact OfficeSpace.com.au
Need help with your office finder search? Just contact us, and we'll be more than happy to recommend some prime business locations in and around North Sydney. Located on the opposite side of Sydney River, we also offer office spaces in Surry Hills. All we need to know are the number of desks you need, your ideal locations and budget for your future business address.