Adelaide Offices for Rent in 27 Buildings
---
Rent Serviced & Shared Offices in Adelaide, South Australia
OfficeSpace.com.au is pleased to present exceptional office space for rent, situated in highly sought after locations in Adelaide SA. These business premises are available on flexible rental contracts - some starting from just one week - making it easy for you to budget and avoid costly long term leases. Arrange to visit your perfect office space for rent today! Whether you are looking for an office with a manned reception, on-site car parking or simply a new, refreshing and inspiring place to work in, you can find it using our office finder search.
What You Need to Know about Adelaide Office Space
Adelaide is a large business and commercial centre located in southern Australia. As the country's fifth largest city, Adelaide boasts a lively business scene and is known for its high livability ranking and affordable commercial real estate.
Adelaide Office Market: The office market in Adelaide covers an area of 1.6 million square metres, and 1.4 million of those are in the CBD (Central Business District), although approximately 30 percent of Adelaide CBD offices are C or D Grade units. By contrast, the Adelaide Fringe area is one of the popular office locations in Adelaide SA, as it offers a convenient location and high-spec properties in a modern furnished office environment.
Typical Office Types & Occupiers: Demand for Adelaide office solutions mainly stems from the insurance, education, property, and government sectors, and typical occupiers include large businesses with space requirements of 1,000 square metres and above, although many are looking to consolidate current space. This, along with flight-to-quality, are two predominant themes in the Adelaide office market.
Vacancy Rates & Average Rental Costs: Occupancy rates are generally stable across all office grades. Vacancy rates averaged 15 percent in mid 2017 following an increase in office sales volume, but a limited development pipeline and a slowdown in construction are likely to lead to a contraction in vacancy rates until 2019. Gross face rent for prime office space in the Adelaide Central Business District averages $503 / sqm, and is just above $440 / sqm in Adelaide Fringe, whereas secondary office space ranges between $371 and $345 / sqm (2017 data).
Office Market Outlook: Looking ahead, market conditions are likely to favour tenants, since rents and incentives are set to experience only modest increases.
Why You Should Rent Office Space in Adelaide SA
According to 2016 data from the National Institute of Economic and Industry Research, public administration and safety is the largest industry in Adelaide, followed by healthcare, social assistance, and professional, scientific and technical services. Moreover, government and finance are important drivers of the local economy given Adelaide's status as one of Australia's largest urban centres.
Key Employers & Industries: Key employers include the University of Adelaide, Adelaide Town Hall, the University of South Australia, the City of Adelaide, and Royal Adelaide Hospital. Adelaide employers have access to a total workforce of approximately 150,000 people, in which the most common qualifications are management and commerce, society and culture, healthcare, and engineering. Since 2010, the professions experiencing the highest job gains have been healthcare, transportation, warehousing, accommodation and food services.
Business Environment: According to the Australian Bureau of Statistics, there are more than 15,000 companies registered in the Greater Adelaide Area, and approximately 40 percent of those are in finance and insurance services. Other sectors where business opportunities are good include information, media, telecommunications, arts and recreation services, rental, hiring, and real estate.
Business Incentives & Benefits: Key benefits of being based here include short commute times, affordable commercial property, and proximity to Adelaide SA International airport, which is only 8 kilometres away from the city centre and serves business destinations in the Asia-Pacific region and the Middle East. Moreover, a recent agreement between city authorities and providers will offer ultra-fast Internet to Adelaide-based businesses in order to boost the knowledge economy and improve the city's overall business infrastructure. A list of grants and green initiatives (including several that are specific to office-using industry sectors) is available from the City of Adelaide website.
Shared, Virtual & Serviced Offices for Rent in Adelaide
Finding the ideal location, which enables your business to expand and also to develop the right network of connections, is both a challenge and an opportunity. Many companies choose flexible, furnished office solutions, which afford them the freedom to expand or contract depending on their immediate requirements.
Most of the commercial furnished office properties and business centers we feature on OfficeSpace.com.au offer fully furnished and equipped workspace, whether it be private or shared offices, coworking space and hot desks, or meeting space and conference rooms. Most also provide professional manned reception services, dedicated call answering, print / copy centres, internet, and network wiring, WiFi, kitchens, and car parking. Some of the properties also provide video conferencing, concierge services, gyms, bike racks and other professional services and amenities.
We would love to help you find the perfect office space in Adelaide SA. Just pick any of the serviced offices displayed above to discover what's on offer and how much it costs. The Adelaide office space listed on this site is located in the heart of the Central Business District as well as in other prime locations. Most of the offices for rent are available for immediate occupation with no need for a lease or lengthy contract.
Contact OfficeSpace.com.au
OfficeSpace.com.au has an impressive selection of outstanding office space in Adelaide and other South Australian locations, available on flexible terms to suit your business needs and budget. Use our office finder to search, and have a browse through a vast array of furnished office spaces. Whatever your office space requirements, we can help. Contact us using the form above, and arrange to visit your perfect office space for rent.
Office Space for Rent in Adelaide, South Australia
There are 27 office towers, landmark buildings and commercial properties in Adelaide with spaces available for rent or lease including:
| | |
| --- | --- |
| City Central Tower 2, 121 King William Street | Private / Serviced Offices, Coworking / Shared Office, Virtual Office |
| 12 Pirie Street | Private / Serviced Offices, Coworking / Shared Office, Virtual Office |
| 108 King William St, CBD | Private / Serviced Offices, Coworking / Shared Office, Virtual Office |
| Grenfell Centre, 25 Grenfell St | Private / Serviced Offices, Coworking / Shared Office, Virtual Office |
| 5 Peel St | Private / Serviced Offices, Coworking / Shared Office, Virtual Office |
| 30 Currie Street, Level 8 | Private / Serviced Offices |
| Business Hub @ 155 Waymouth St | Private / Serviced Offices |
| Intersect @ 167 Flinders Street | Private / Serviced Offices, Coworking / Shared Office, Virtual Office |
| 366 King William Street | Private / Serviced Offices |
Featured Adelaide Business Locations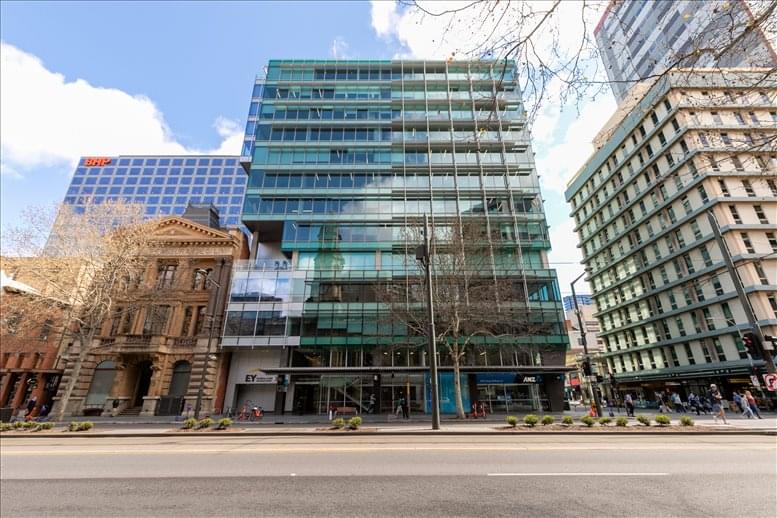 City Central Tower 2
Adelaide Office Space
Completed in 2008, Central Tower 2 is an A Grade building located in the heart of Adelaide's CBD. Serviced offices and coworking spaces are available in this high-profile, 13-level building at 121... Read More >>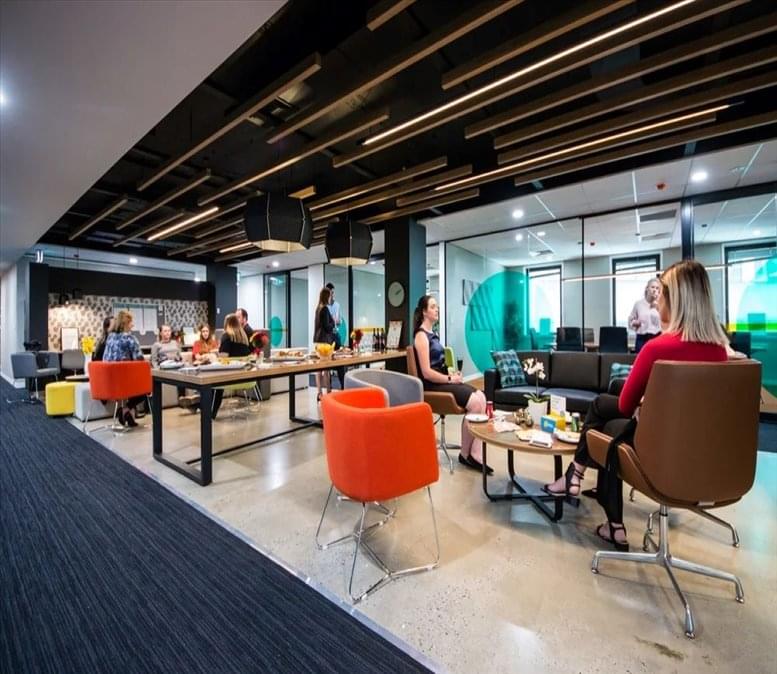 12 Pirie Street
Adelaide Office Space
This workplace is buzzing with energy making this an unbeatable location for those who value a premium business address and the ultimate in convenience. This Centre is accessible via train, tram, or... Read More >>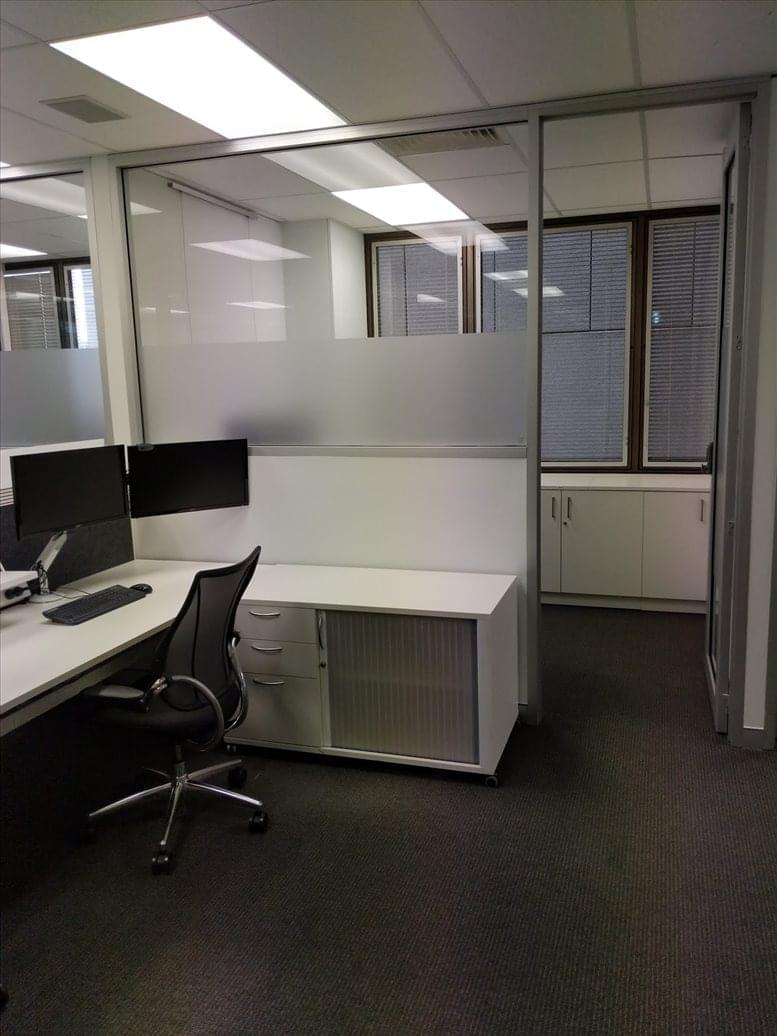 108 King William St
Adelaide Office Space
This office space complete with a brand new fit-out in the heart of the CBD is perfect for any business that is looking for a space to grow in. With private, co-working and virtual offices available,... Read More >>