North Ryde Offices for Rent in 1 Building
1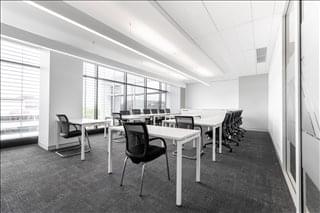 This space in North Ryde is part of the prestigious Eden Park Drive development and is situated within the Macquarie Park business precinct. Eden Park is designed as a 'village' style office campus and is surrounded by cafés, retail outlets, and tenant amenities including a childcare facility, bike racks and change facilities as well as beautifully... More photos/details >>
Private / Serviced Offices
Coworking / Shared Office
Virtual Office

This space in North Ryde is part of the prestigious Eden Park Drive development and is situated within the Macquarie Park business precinct. Eden Park is designed as a 'village' style office campus and is surrounded by cafés, retail outlets, and tenant amenities including a childcare facility, bike racks and change facilities as well as beautifully... Read More >>
7 Eden Park Drive, Macquarie Park
---
---
Rent Serviced Offices in North Ryde, NSW
With 1 office currently available in North Ryde, OfficeSpace.com.au can help you find serviced, shared and sublet office space that is perfect for you. Our team has comprehensive knowledge of the local office market which enables us to find the property you require from a wide range of prestigious locations and office options. Many of the commercial office properties we feature in North Ryde offer simple, short term and flexible rental contracts, making it easy to sign up, move in and get to work without the extra time, expense and commitment of traditional commercial real estate lease agreements.
Let Us Help You Find North Ryde Serviced Offices
OfficeSpace.com.au provides businesses of all sizes with premium offices space and flexible workspace solutions in North Ryde, New South Wales on short term contracts to suit your requirements. The North Ryde serviced offices we feature come with an exceptional range of business support services and facilities included.
Most of the North Ryde business centres listed on this website offer fully furnished and outfitted office space, which makes short work of setting up. Some of the serviced offices can also be configured to meet the particular needs of your business.
You can select as many of the serviced offices in North Ryde as you want to add to your shortlist on the Quick Quotes form. Once we receive your enquiry we'll be in touch to answer any of your questions, discuss your preferences and arrange viewings of the serviced offices you like the best.
Contact OfficeSpace.com.au
We have an impressive selection of desirable office space in other New South Wales locations, all available on terms to suit your individual business needs. Located 14km west of North Ryde, you can also rent serviced offices in Parramatta, considered to be Sydney's second CBD. Whatever your office requirements, contact us using the form above or call 02 9055 9335.