Mascot Offices for Rent in 1 Building
1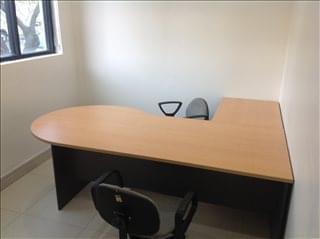 Office spaces are designed to generate stronger, more efficient, and more lasting connections with people, projects, and the environment. Also, this business centre offers all the beautifully designed amenities like 24-hour access, security, high-speed internet connection, professional meeting rooms, an on-site management team and a kitchen with... More photos/details >>
Private / Serviced Offices

Office spaces are designed to generate stronger, more efficient, and more lasting connections with people, projects, and the environment. Also, this business centre offers all the beautifully designed amenities like 24-hour access, security, high-speed internet connection, professional meeting rooms, an on-site management team and a kitchen with... Read More >>
---
---
Serviced Offices in Mascot, Inner-South Sydney
Search OfficeSpace.com.au for move-in ready serviced offices with high speed internet, hot desk facilities, virtual offices and commercial properties in Mascot, Sydney, Australia. Search our serviced office centre spaces, coworking space, and shared office space or private offices for immediate occupation on short term contracts. Whether you're looking for coworking space with a business lounge, or private offices in an ideal location with car parking onsite, we have got you covered.
Many of the buildings, serviced offices and centres we list offer all inclusive, short term rental agreements for virtual offices, fully furnished and furnished office spaces. This provides your company with furnished office space that is complemented by a wide range of amenities, 24hour access to serviced meeting rooms, kitchen facilities and more at a prestigious address in and near Mascot, without tying you into a multi year lease and all the additional cost and hassle that might require.
South Sydney Office Space for Rent in Mascot
The suburb of Mascot, is part of the metropolitan Sydney office market in Australia. The majority of offices are located in the areas surrounding the railway station and along Botany Road, and office buildings in these areas mainly date from the 1990s, when the local real estate market underwent substantial development and refurbishment. Business parks in the area include Airgate Business Park, Sydney Corporate Park, and Heritage Business Park.
Like other suburbs in South Sydney, Mascot was traditionally an industrial area where the main tenants were firms involved in manufacturing and logistics and only a few office occupiers. However, changes in the use of commercial serviced office space for rent in Mascot, and the local tenant profile have been evident since 2007, as traditional occupiers are increasingly being displaced by an ever more diverse industry base. As a result, and many former industrial premises are being redeveloped for other uses, including as boutique selected offices.
Following the trend evident in other markets south of Sydney's CBD, Mascot has an increasing number of tenants in the creative sector, as well as start-ups in search of small office units and flexible rental terms, although supply meeting these requirements is on the limited side. There have been some industrial-to-commercial conversions along Bourke Road, but overall new office developments are few and far in between.
At $435 / sqm, average serviced office rent in Mascot Sydney is on par with the rest of the South Sydney market and incentives hover around 15 per cent. Short supply and limited new developments are likely to keep rental values on the rise in the short to medium term.
On the whole, Mascot Sydney is expected to become an established mixed-use market with a high population and growing business density. These factors, along with limited supply and high costs of office space in Sydney's CBD, mean that Mascot has solid potential for future development.
Business Environment in South Sydney: Mascot
Mascot's proximity to Sydney international airport means that the area has a strong accommodation, food services, and logistics industries. It is estimated that 10 per cent of all income generated in New South Wales comes from the Botany / Airport area, where Mascot is located. The international airport alone generates $9bn / year and a further $20bn are linked to airport-related activities, such as tourism and freight. As part of the Bayside Council area, the local industry base is also heavily reliant on manufacturing, construction, and retail trade.
Key Employers: Sydney International Airport (owned by Sydney Airport Holdings) is by far the largest employer in Mascot and is one of the top employers in metro Sydney, as it supports more than 50,000 jobs whether directly or indirectly. Other key employers in this ideal location include Pullman, Holiday Inn, DHL, Woolworths, Qantas, and Colliers. More than 35 per cent of workers in the Bayside Council area employed in Mascot Sydney, which is the area's largest employment cluster.
Business Benefits & Incentives: Mascot's ideal location is just 7 kilometres south of Sydney's CBD and immediately north of the city's international airport are the area's strongest selling points. An affordable cost of doing business also contributes to making Mascot Sydney a good choice for business ventures, and so is the range of support options available from both private and governmental institutions. Grants and financial assistance are offered by the New South Wales Government, mainly for SMEs with an innovative profile. Other organisations that can offer support and advice with a local focus include Botany Bay Business Enterprise Centre, Small Business New South Wales, and South Sydney Business Chamber.
Search for South Sydney Serviced Offices in Mascot
Simply choose one of the commercial properties listed on this page. All of the serviced offices are available on flexible rental terms to suit your needs and are located in prime business positions.
As well as the serviced office space for rent in Mascot listed above, OfficeSpace.com.au can also provide a wide range of private offices, virtual offices, shared office space and other selected offices in other Sydney locations and throughout NSW, Australia. Contact us, and let us help you search and locate the perfect workspace or serviced offices and serviced meeting rooms for your business needs.