Botany Offices for Rent in 1 Building
1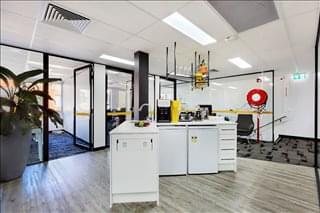 The centre provides its clients with state-of-the-art meeting rooms, fully equipped kitchens, high-speed internet access, and 24/7 access to the building. Additionally, free, unmetered street parking is available in the area, making it easy for clients and visitors to park their vehicles. This workspace has office spaces, including private offices, virtual... More photos/details >>
Private / Serviced Offices
Coworking / Shared Office
Virtual Office

The centre provides its clients with state-of-the-art meeting rooms, fully equipped kitchens, high-speed internet access, and 24/7 access to the building. Additionally, free, unmetered street parking is available in the area, making it easy for clients and visitors to park their vehicles. This workspace has office spaces, including private offices, virtual... Read More >>
---
---
Coworking Space & Serviced Offices in Botany
Here at OfficeSpace.com.au we have offices available in Botany. This excellent office space is available right away, and offers flexible rental terms to make the transition as simple as possible. The OfficeSpace.com.au service is designed to get you into the office space your business needs as quickly and easily as possible, and we would be happy to assist in any way.
Our goal at OfficeSpace.com.au is to provide your company with prime executive office suites and office space in Botany, NSW suitable for your individual business needs. With a fantastic selection of facilities and support services available, and flexible rental contracts, you will be assured of an easy move to your new Botany business premises.
Each office on this site has a page with more information, which lists the features offered by each building. Click any of the offices to find out more information, and if anything you need isn't obvious we invite you to contact us and ask.
Simply select one of the offices for rent in Botany above. Every one of the executive office spaces boasts an excellent business position in Botany, on flexible rental terms to suit your exact office space needs.
In addition, we have a selection of flexible office space available for rent in prime business locations in a number of other cities in NSW.