Perth CBD Offices for Rent in 14 Buildings
---
Serviced Office Space Perth CBD : Shared Offices for Rent
Perth's CBD covers an area of 41 hectares, of which approximately 1.7 million square metres are devoted to office space in Perth. The majority of inventory is classified as A Grade space (approximately 1 million square metres), and the remainder is evenly split between premium and secondary space. The western side of the CBD has the highest concentration of professional office buildings.
Perth CBD Office Buildings: The CBD's skyline is punctuated by a number of high-rise office buildings, most of which date from the 1990s – 2000s. Well-known office towers in Perth Central Business District include Central Park, Brookfield Place, Exchange Plaza, St Martins Tower, David Malcolm Justice Centre, QV1 Building, Capital Square, Forrest Centre, and Allendale Square are all conveniently located here.
Perth CBD Office Vacancy Rates: Downtown Perth is generally considered an office market that favours tenants, as the supply-demand ratio tends is higher on the supply side. At an average of 20 per cent (and even higher for secondary properties), professional office vacancy rates in Perth's CBD are higher than in other Australian cities. High vacancy levels are mainly the result of downsizing trends and of companies relocating to more affordable locales in West Perth or in suburban areas such as Herdsman and Northbridge.
Typical Office Occupier: The most common tenant types are large corporates and firms in oil, gas, and natural resources, which account for almost 40 per cent of all transactions, followed by professional and business services, finance, insurance, and IT.
Average Office Rental Perth CBD Costs: In 2017, net face office space in Perth CBD ranged from $600 to $725 / sqm for premium offices, $475 to $650 for A Grade space, and $$250 to mid $400s for secondary space. Incentive levels are among the highest in the country, ranging from 45 to 55 per cent.
Office Market Outlook: Short and medium-term forecasts suggest that strengthening demand for premium CBD offices may lead to decrease in vacancy rates until at least 2020. It is also expected that incentive levels will decrease rather dramatically from 2018 onwards, in particular where premium furnished and equipped office space is concerned. Substantial investment has already been made in areas like Elizabeth Quay and Waterbank-Riverside, where mixed use developments will add nearly 350,000 square metres of private offices and furnished office space to the city's downtown inventory.
Why Businesses Love Perth's CBD
Downtown Perth WA is home to approximately 15,000 companies and is ideally positioned for business with the Asia – Pacific region. City authorities have launched initiatives to promote further business growth and to attract new companies to the downtown area. This is the case of Serious Business Move, which exists in addition to well-established business assistance programmes like small business grants and business improvement grants.
Key Industries & Employers: Perth's CBD has a diverse industry base, although the largest sectors are government, mining, oil and gas, insurance, banking, real estate, and engineering. In addition, the cultural and creative sector employs more than 6,000 people in the city centre, and is only expected to keep growing.
There are several large companies headquartered in the CBD, including Telstra, KPGM, Chevron, JLL, Rio Tinto, Grant Thornton, BT Financial, Liberty International, PricewaterhouseCoopers, BHP Billiton, and ANZ.
Labour Market & Prominent Occupations: The CBD attracts a qualified workforce, where the largest occupational category are professionals, which account for more than a third of all downtown employees. All in all, it is estimated that more than 30 per cent of all 150,000 workers based in Perth city have a job in the CBD.
The area is also known for being a hotbed of talent, since the CBD is an educational hub with nearly 15,000 students who attend prestigious institutions like Curtin Business School, the College of Law of Western Australia, Keystone College of Business and Technology, and Cantillon Institute.
Find Serviced Office Space Perth CBD
Search for furnished offices, shared workspace or virtual office space for rent on flexible, short term contracts. If you need help with your search for a flexible office space in Perth's Central Business District, you can contact us by using the form above. We have a wide range of different furnished and equipped office options in the ideal location of Perth, Western Australia. If you are looking for a new business address with essential amenities such as hot desks, car parks, high speed internet, business lounge and meeting room facilities, call answering, 24 hour access, air conditioning and more, we want to help you.
Many of our offices in Perth WA's Central Business District have easy access to transport links such as Perth Airport, the Train Station and other public transport options. Some of our selected offices also offer stunning panoramic views of the marvellous Perth Western Australia area. So, all that's left to decide is what you require for your new office space or business centre in the ideal location of Perth WA.
Office Space for Rent in Perth CBD, Western Australia
There are 14 office towers, landmark buildings and commercial properties in Perth CBD with spaces available for rent or lease including:
| | |
| --- | --- |
| 2 The Esplanade, Level 17 | Private / Serviced Offices, Coworking / Shared Office |
| Liberty Executive Offices @ Citibank House, 37 St Georges Terrace | Private / Serviced Offices |
| 16 Irwin Street | Private / Serviced Offices |
| Spacecubed @ 45 St Georges Terrace | Private / Serviced Offices, Coworking / Shared Office, Virtual Office |
| St Martins Tower, 44 St Georges Terrace | Private / Serviced Offices, Coworking / Shared Office, Virtual Office |
| 108 St Georges Terrace, Level 25 | Private / Serviced Offices, Coworking / Shared Office, Virtual Office |
| Parmelia House, 191 St Georges Terrace | Private / Serviced Offices, Coworking / Shared Office |
| We Are Liberty @ 197 St Georges Terrace, Level 14 | Private / Serviced Offices, Coworking / Shared Office, Virtual Office |
| Forrest Centre, 221 St Georges Terrace | Private / Serviced Offices, Coworking / Shared Office, Virtual Office |
Featured Perth CBD Business Locations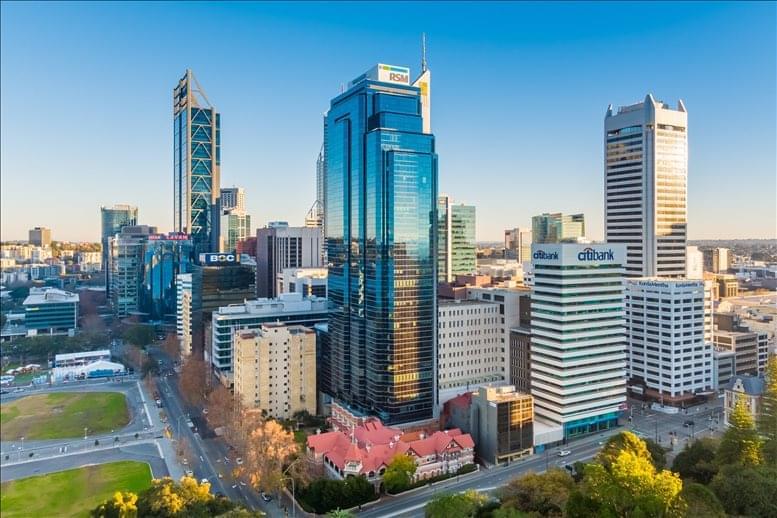 2 The Esplanade
Perth CBD Office Space
The workplace is a 40-storey building that stands as a beacon of progress in the heart of Perth's Central Business District. It offers newly refurbished facilities on multiple levels, including a... Read More >>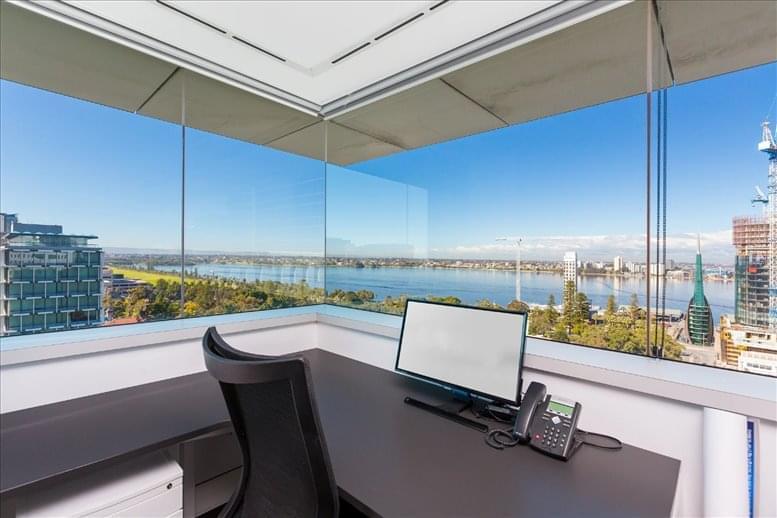 Liberty Executive Offices @ Citibank House
Perth CBD Office Space
Private serviced offices are available for rent at the newly refurbished Liberty space on the 13th floor of the Citibank House building. Located on the corner of St Georges Terrace and Barrack... Read More >>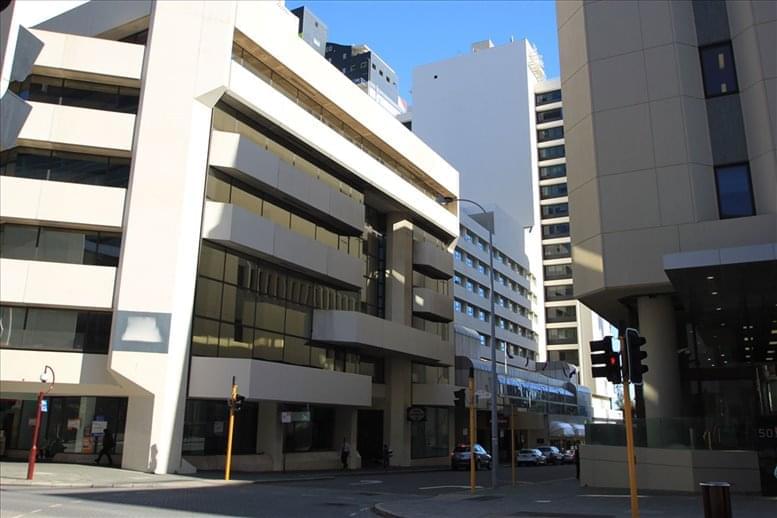 16 Irwin Street
Perth CBD Office Space
The building is home to an active community of leaders in emerging tech who are supported by the workspaces suite of custom programs which are designed to facilitate the growth and success of its... Read More >>